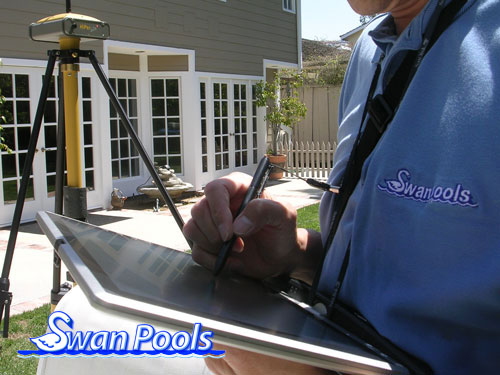 Step 3: Engineer
The next visitor to your home will be a Swan Pools field technician. Working from the designer's vellum, the technician ensures that the dimensions for the work of improvement are accurately measured, any potential construction problems are identified, the scope of work is correctly calculated and all government permit requirements are met.
After the visit, the Swan Pools Engineering Services group creates the formal computer-aided drawings that guide the Swan construction team. The same drawings are submitted for your city's permit process. Swan Pools obtains all necessary City permits on your behalf.
Once we receive your City permits, we're on to construction.
>>Go to Step 4: Construction.
>>Go back to step 2: Design.
>>Six Steps to Paradise.
>>Need more inspiration? Take a tour of our creations.