Swan Pools' Swimming Pool Picture Gallery
Featured Projects:
This project is unique due to the modifications that needed to occur to get this pool, spa and water features/rock work to actually be buildable as well as comfortable in the backyard space. The owners were super excited and committed to having a pool and spa, as well as a slide and grotto for their kids and themselves to have as much fun in the space as possible. Expectations were high therefore quality, value and reliability were of paramount and non-negotiable criteria in the Design Stage of their project. The clients were discerning, knowledgeable, and very stringent on choosing a contractor/builder. They were looking for the best.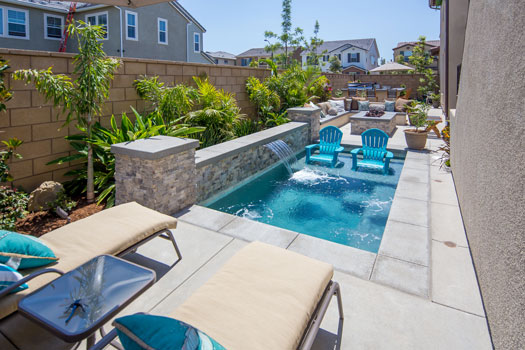 The dynamics of preexisting conditions, the elevations and existing materials all added to the complexity of this project. The need for extensive experience to ensure the outcome was on par with expectation and the best match of materials that were already used throughout was non-negotiable.
Key features of this project that our clients were looking to accomplish were:
Custom rock work that made the pool and spa have a unique feel and that helped with the transition/elevation of the yard
A water slide and small grotto experience for the kids and family
A Swan water bar/reef for pool furniture or in-water chaise lounging – 6" water depth
A fun and inviting accompaniment to their existing fireplace and patio cover area
Water, water, and more water…they really wanted to see a gorgeous color of water while in the house and in the yard
A safe, experiential, and playful retreat…like a "Staycation" right there at home…
A design that fit the space well, was not overkill or over budget and that was on par with the other existing items in the space
Swan Pools Construction delivered 100% on the project. As an experienced pool contractor we stepped up to the occasion! Strong commitment was put forth to the outcome and expectation for our client. Each item and feature were reflective of what the client requested, chose or enjoyed and our team worked closely to make sure that we clearly understood the goals and desires of our homeowner and methodically worked toward that goal.
Staycation…no need to travel today…just walk outside and there you have it! Your own backyard oasis!